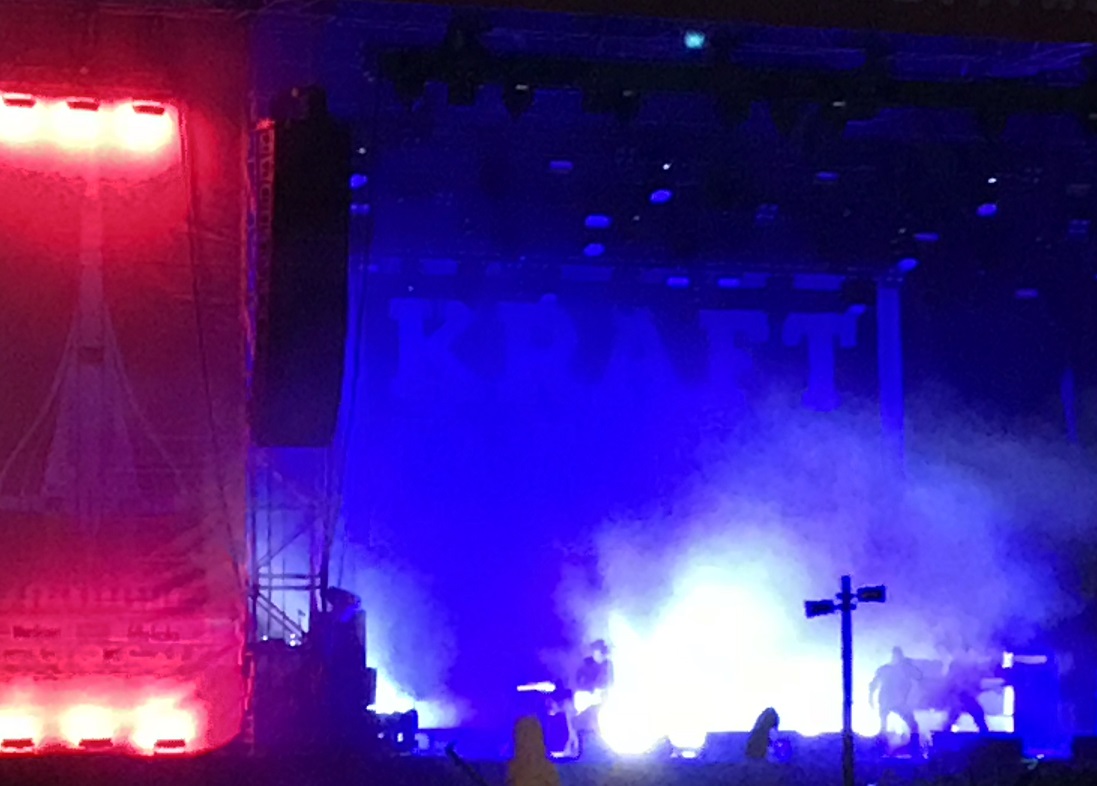 Actually, I didn't want to go there. Okay, Sofi Tukker should play, pretty unimaginable. Kraftklub might be interesting. But the rest. Well. There should really be a surprising climax!
So we including our 8-year-old daughter came to the stage where VSK was to play. In our family there is one person who is very interested in rap. I'm not, and I don't mean our daughter. But before that, there was a DJ with a singer on the rather small stage. What was her name? Mavi Phoenix? Never heard of him. Or is it? Surprisingly a very strong appearance. I'm sure she'll make it to Plan B and DLF Nova soon, the last audible stations in Germany. Plan B is only one loop of WDR 1, which changes weekly. And the voice seemed familiar after all. Damn, do you know them? She then spoke an excellent Austrian and said she came from Linz. Very amazing with the good sung English. Mavi was really worth listening to! Then at some point she said that she was a big fan of Janet Jackson, and it fell like scales from my eyes. It's already on plan B and DLF Nova, their hit Janet Jackson is often played there! And then she's here on this backstage???
Our local media have obviously once again successfully prevented really good music from being made popular. Mavi is in line with Sofi Tukker, the Yeah Yeah Yeahs, Everything Everything, Awolnation, Alt-J… just to name a few.
VSK also played, somehow interesting, finally people from KIZ, as I was told.
So where was the stage where Sofi Tukker was supposed to play? Uh-huh, someone's building up. Ho99o9? Never heard of him. The guy there, completely wrapped in a long blue robe, only a few hairs looked out, but looked quite unusual. Woman or man? What are you doing? There was another drummer who looked spectacularly unspectacular. And then there was another one in a police uniform. There were voices with strange echo effects, fast rhythms, the band name meant horror, as you could see. I'd say some kind of rap punk, pretty weird, interesting to watch, but nothing to listen to at home. Still, not bad.
We then went to the main stage. I heard Trettmann, all right. Some Olli Schulz, no idea who that was and what he was looking for and wanted to portray.
Then a Camora, also a rapper I didn't know before and who didn't interest me either. It was pretty crowded, you could only see the performers from a distance.
Then again to the smaller stage, where Kat Frankie played. Not bad, but not so exciting. After all, it was really full!
Put your feet in the water again. Well, not me. Nevertheless, it is very practical that you can take a bath at the same time. Kraftklub, who have somehow brought the whole thing into being, has thought up finely. The name Kosmonaut is also quite funny. And there was also a drawing of a TU 144. Stop, the engines were under the wings, so it was a Concorde. But in the end that is also history.
15 minutes before the Sofi Tukker concert we were at the stage. There were, like, 30 people there. One could see at the very front how a young man put the technology into operation. On time a man, who was introduced as a Tukker, and Sofi came on stage. Not only Sophie's smile made them incredibly likeable. In the middle of the stage, pictures with symbols seemed to hang in a circle. As it turned out, certain tone sequences sounded when Tukker hit it with his truncheons. He also had a tiny box where all kinds of sounds and sound sequences were apparently stored. Nevertheless, a guitar and a bass were still available. I think with the sticks he could play melodies on something.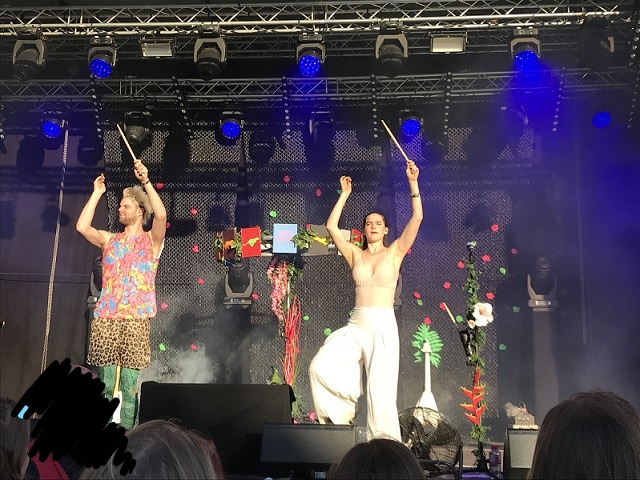 | | |
| --- | --- |
| Sofi | Tukker |
They started to play and the crowd was in a good mood. The place had meanwhile filled with people, and we were right at the front. Simply phenomenal the alternation of the two voices, the rhythms in between, the performance on stage… Sofie stood there often, beaming and outshining everything. She could scream, sing low and high, everything perfect. She played the fat notes in between with the guitar, that went through and through. Then this incredible woman came over the barrier, walked right past me and danced in the crowd. Everything was in a trance. When she saw our daughter, she danced with her for a moment, then climbed back up onto the stage. Actually, the music is quite minimalistic. The effects created by the sound changes, rhythm changes and the contrasting vocals of the two are all the stronger. The songs are incredibly versatile. Sofie sings French or Portuguese, as I suspect, since some lyrics are by Brazilian poets (I'm not sure). This gives the whole thing a very special touch and an idiosyncratic character. I don't know any band that does anything like that. Sofi Tukker radiates creativity.
There were then some wildly jumping spectators in our proximity, which prompted the order group, which stood constantly before the stage, to bring our daughter to safety. I lifted her over the barrier to a step where Sofi had climbed over before. At first she was a bit intimidated, but then she started dancing again on her seat so close to the artists. She knows the music pretty well from our playlist while driving. Tukker noticed that, smiled at her and waved to her. Almost everything we knew of them was played, unfortunately Johny was missing. Best Friends, what you have heard so often now, was simply brilliant again and showed no signs of fatigue. Drinkee has been expanded, the thing has so much potential and is simply ingenious. But those were also Awoo and F*ck they and Batshit and what they're all called. Just great. There are (many) concerts, you just hope that they will end. This was not one of them. Two artists, highly sympathetic, creative and talented.
When it was over, a man of order handed me another baton from Tukker. With engraving. That was awesome!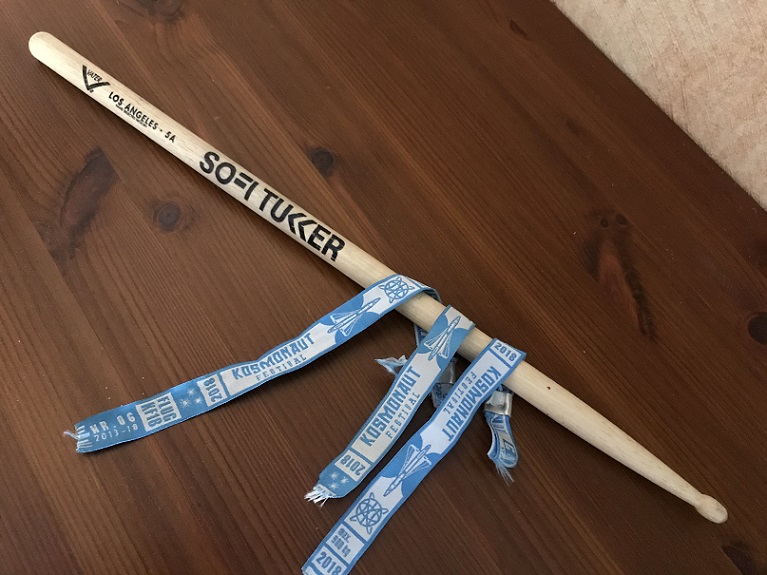 The concert had overlapped Milky Chance's on the main stage. Yeah, Milky Chance with her Cocoon and everything that sounds similar. It's nice, but it doesn't really throw you out of your chair. I thought until that moment. The stage was quite far away because of the crowds, you could hardly recognize faces any more. But you could hear, and you could see that someone was blowing the harmonica from time to time. And what they were playing distantly reminded me of a radio version of Cocoon. That's when the mail actually came out. The boys have the blues, you don't think that's possible. They started and delivered a thunderstorm of sound that I was speechless. That was fantastic! I didn't think that this tuggy voice could bring across so much power. They got their souls out of their souls! And they have it in their blood. The air was burning. Those were really people who didn't just rant their stuff because maybe the record company or somebody else wanted it, they had fire and fun with it. I don't really know what makes the difference to the radio version, but it's definitely there.
This was the second completely unexpected climax of the time of our existence and probably of the whole Kosmonaut. Käpt´n Peng and the tentacles of Delphi were already Friday, which I would have liked to hear.
We waited for Kraftklub. Yes, they can also be celebrated and splurge tremendously with their stage show. That's a good impression. And Felix too, the man has real charisma. He stands up for his Karl-Marx-Stadt and invests there really money, as one hears. Even if Prime Minister Kretschmer obviously does not like this so much…
They thunder off with brute force and Beck's Loser in a Karlmarxstadt version. Of course you had to wait until dark for the light show. A group of girls in Kraftklub uniform wandered, danced and sang across the stage from time to time, that was impressive. German Hit It Rock'n Roll Rap I would say. Just the opposite of Sofi Tukker. Yes, and of course the masses paid homage to their original Karlmarxstadters. Then a cosmonaut congratulating Felix on his birthday, that was funny. Then all the locals present were told that they belong to the poor because eastern part of Germany, and thus are inevitably poor, so we are back on the loser track. Felix's brother, however, was not one of them, as was explained. What, we all losers and he didn't? Felix, you're a great guy, but this is bullshit. When your Karl Marx Stadt was really called that, most of them were really poor, not only materially.
By the way, there were a lot of cars with western numbers in the parking lot.
Thanks for reading,
Thomas